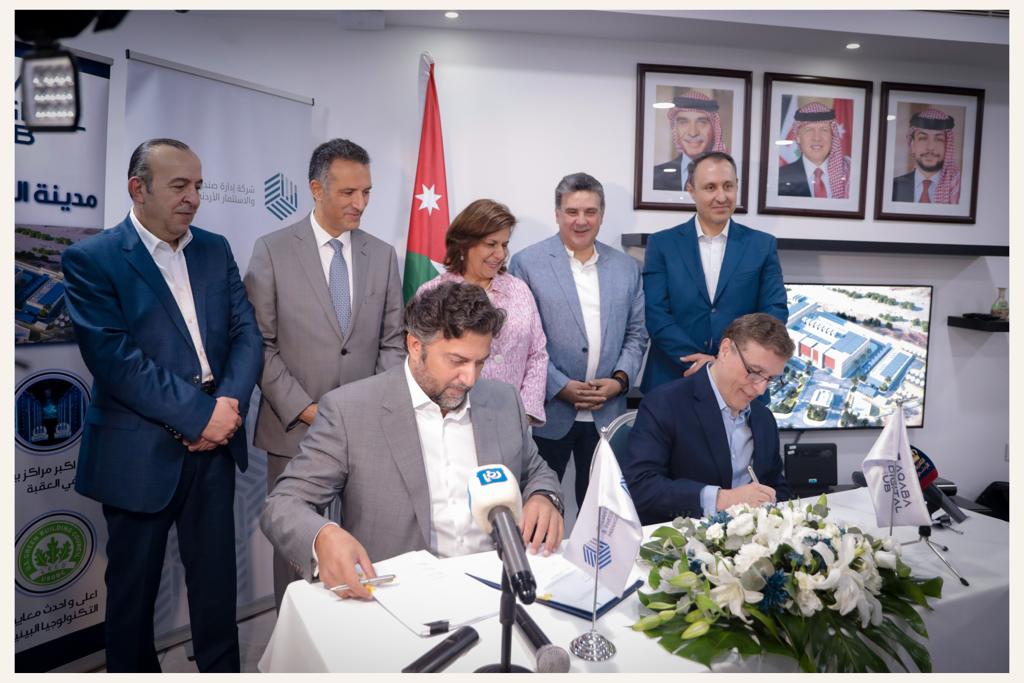 Jordan Capital & Investment Fund Announces Investment Share Acquisition in Aqaba Digital Hub
Amman, August 2023: Jordan Capital & Investment Fund (JCIF) has announced that it has finalized details in relation to a significant minority investment in Aqaba Digital Hub (ADH), a flagship project poised to tap into the growing demand for modern digital transformation in Jordan. The project encompasses the largest carrier-neutral 6MW data centers in Jordan and stands as one of the MENA region's largest. Its array of services covers a range of offerings, including an open-access submarine cable landing station, cloud services, long-haul telecommunications services, a carrier-neutral internet exchange point (AqabaIX), expanded fiber networks, and satellite services.
During a ceremony held at ADH's offices in Aqaba on Thursday 17 August, 2023, JCIF - which is owned by Jordanian banks - and ADH signed the deal in the presence of Minister of Investment, H.E. Kholoud Al Saqqaf; ASEZA Chief Commissioner, H.E. Nayef Al Fayez; Deputy Governor of the Central Bank of Jordan, H.E. Dr. Khaldoun Al Wshah; and Chairman of the Board of Commissioners of the Telecommunications Regulatory Commission; H.E. Bassam Al Sarhan. The ceremony was also attended by leaders and dignitaries from the private sector.
Founded in 2017 by Eyad Abu Khorma, ADH currently operates regional fiber-optic networks and a carrier-neutral, Uptime-Certified Tier-III data center; serves as a hub for connectivity, infrastructure technologies, and cloud services; and provides wholesale capacity services to local and neighboring markets. Moreover, ADH has been chosen as the Jordanian hosting facility and landing station for the Blue Raman submarine cable, linking Asia with Europe. Leveraging its existing infrastructure from the Blue Raman cable landing station, ADH will introduce new options for cloud services, international gateway services, and other high-technology solutions and applications to the Jordanian and regional markets.
Strategically located within Aqaba, ADH data centers act as an ideal disaster recovery site for banks across Jordan, fortified by their secure and technologically advanced facilities. This development not only strengthens the financial sector's resilience but also elevates Jordan's FinTech ecosystem.
Minister of Investment, H.E. Kholoud Al Saqqaf, underscored the significance of the first investment agreement between JCIF and ADH as a vital step towards addressing the increasing demand for modern digital transformation services in Jordan. Her Excellency emphasized the importance of establishing investment funds, as they stimulate and attract capital to invest in various priority and competitive economic sectors. This, in turn, is poised to substantively contribute towards the realization of economic and developmental goals that will directly influence economic growth while combating poverty and unemployment issues.
Furthermore, Her Excellency added that the Investment Environment Law for 2022, for the first time, laid the foundation for a legal framework that facilitates the inception of investment funds devoted to the pursuit of economic activities. According to the law, an investment fund assumes legal personality following its establishment and formal registration under the Ministry of Investment. Her Excellency also highlighted that the Investment Promotion Strategy 2023-2026, approved by the Investment Council in May, targets multiple sectors, namely IT as a priority sector set to attract investments to Jordan.
ASEZA Chief Commissioner, H.E. Nayef Al Fayez, asserted that Aqaba serves as a host for the first Jordanian digital city and is considered a primary hub for tech investments within the region, which thereby helps promote Jordan globally. His Excellency emphasized ASEZA's pivotal role in providing facilitations for investors and in equipping and empowering youth through dedicated tech initiatives aimed at preparing them for such investments, as well as for the local and international job markets.
"This deal will mark a key investment for JCIF since its official launch in 2022 and aligns with the fund's strategy to play a central role in the Jordanian economy by creating jobs, attracting new businesses, and bringing cutting-edge technologies to local communities," stated Hani Qadi, Chairman of JCIF Management Company. "Information and communications technology (ICT) has emerged as a core driver of the modern knowledge-based economy and plays a crucial role in the socioeconomic development of a country. On this note, we extend our sincere appreciation to the Government of Jordan and the Central Bank of Jordan for their consistent support of JCIF ."
"Since its inception, the Aqaba Digital Hub has attracted distinguished local, regional, and international telecommunications operators, as well as global content delivery networks," said Abu Khorma, ADH Founder and Owner. "Our partnership with JCIF will provide capital for growth, increase access to resources and help drive expansion by further opening up new market opportunities," Abu Khorma added.
"We are delighted to partner with Eyad Abu Khorma on this pioneering project, which will help serve the growing demand for modern digital services in Jordan and the MENA region. This project will be critical to enhancing solutions for digital transformation and developing hubs for companies and organizations of all sizes," commented Faris Sharaf, CEO of JCIF Management Company.
Jordan Capital and Investment Fund (JCIF) is wholly owned by 16 Jordanian commercial and Islamic banks and is the largest private sector investment fund in Jordan with a capital commitment of JOD 275 million (USD 388 million). The fund aims to invest in pioneering companies with opportunities for growth, development, and expansion by providing fresh capital to help increase employment and promote economic growth across Jordan. JCIF targets investments in dynamic and promising sectors, notably in the fields of food and health security, manufacturing, and information and communications technology (ICT), with the aim of unleashing Jordan's potential to build for the future.